FORECASTS FOR EXECUTIVES AND INVESTORS
---
Click for your FREE issue,
no information required from you.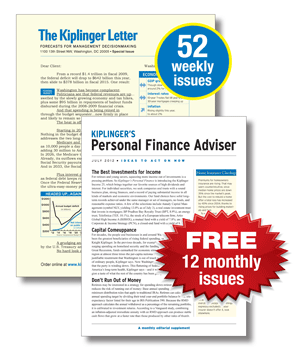 What makes The Kiplinger Letter different from just about every other publication on the market?
Unlike most other news sources, The Kiplinger Letter doesn't report news that already happened. Rather, it anticipates future events and trends that other publications will report as news later.
Why?
To help you profit and prosper in your business, investments, and personal finances.
Think of the Letter as your personal consulting service, filled with insight and intelligence on everything from how the economy will perform this year, to innovative technologies currently under development, to emerging investment opportunities you should consider — or avoid.
What else makes The Kiplinger Letter different from just about every other news source?
In a word, trust.
You hear a lot these days about "fake news" and reporters who let their own political bias dictate what they write. You won't find any of that in the Letter.
We know our readers don't want our opinions. They want reliable, objective judgments to help them in their decision making.
So we simply do the research and analyze the facts. Then we report what we believe will happen, not what we want to happen. That's why the Letter has stayed in business for more than 95 years.
Each weekly issue covers a wide range of topics in just four pages, written in a style that saves you time by being easy to read and digest. You'll find no flowery language or tedious detail. Just straightforward analyses and advice to help you make more profitable business and financial decisions.
The Letter employs eight seasoned reporters and editors who specialize in different subject areas. Each week, they look for key trends and future developments that will affect the economy, financial markets, specific industries and, ultimately, your business, investments and financial affairs.
We seek out informed sources — economists, government officials, members of Congress, knowledgeable experts in many fields — to get their views. We do not quote them or name them, so they speak freely and give us their honest opinions, devoid of spin.
We rigorously parse what they tell us, compare it with what other sources tell us, and arrive at our own conclusions after much internal debate. Everything we write gets fact-checked, copyedited and polished before it leaves the editor's desk.
It's a laborious process, but it yields crisp, concise judgments for you. And since the Letter takes no advertising, we focus solely on serving your needs. This allows us to do our jobs better, because we have no divided loyalties. You are our only boss.
We are also here for you personally. If you have a question we may be able to answer, or you want to know why we wrote something we wrote, you can call us, send an e-mail or write to us at any time. The Letter isn't just a publication, it's a service. That's one more thing that makes the Letter different — and worth reading.
The Letter has been in print since 1923. Over time, its format has evolved, but its purpose has never changed: to assist you in the many complex decisions pertaining to your business, investments and personal finances. To help you make sense of what's happening in Washington. And to explain the future significance of today's headlines.
In short, I'm confident that by helping you plan for what lies ahead, The Kiplinger Letter will help you make or save far more money than the nominal cost to subscribe.
But you don't have to take my word for it. Click any of the links on this page to download a free issue, and see for yourself. No information is required from you.
Then take advantage of a special New Subscriber offer to get 52 weekly issues — plus 12 free monthly issues of Kiplinger's Personal Finance Adviser — and save up to 56% off the cover price. Best of all, your subscription is fully protected by this risk-free 100% money-back guarantee.
If you're ever dissatisfied with the Letter for any reason, simply cancel your service and request a 100% refund of the full price you paid for your current subscription term. All weekly issues and free monthly copies of Kiplinger's Personal Finance Adviser that you received are yours to keep, no questions asked.
Download your free issue now. There's absolutely no risk to you. But as you will see, the chance for gain is very great indeed.
To your business and financial success,



James B. Patterson, Managing Editor
The Kiplinger Letter
P.S. Get your FREE ISSUE now, no information required from you. Then save up to 56% and get 12 free monthly issues of Kiplinger's Personal Finance Adviser when you subscribe!